From day one, we've been training our students in how experienced change managers are using the ACMP® Standard for Change Management© to deliver real business change to their organizations. Our CCMP training is not a check-the-box training course just to allow you to pass your exam.
We teach you about the ACMP Standard not a propriety model or methodology. Register today to start the process to obtain your CCMP professional certification.
Why you should choose OUR CCMP Training
Here are some of the many features of our jTask CCMP Training class:
Focused on the ACMP Standard for Change Management
Shows how the ACMP Standard can be implemented at your organization
Demonstrates how to create Change Management tool kits from the ACMP Standard
Demonstrates Stakeholder Analysis and Change Impact Assessment software
Uses simple Memory Techniques to remember the ACMP Standard
Includes 100+ mock exam questions
Includes 8+ practice exercises
Taught by instructor with 15+ years of change management practice
Covers things to watch for in the ACMP Standard
Satisfies the 21 training hours required by ACMP to apply for the CCMP exam
Please see the ACMP website to learn about your eligibility to obtain the Certified Change Management Professional (CCMP) certification.
CCMP Exam Samplers (New)
As part of our jTask CCMP Training course students complete over 100+ mock exam questions. Here are some question from the course. These questions will help you to test your knowledge of the ACMP Standard for Change Management and to prepare for the CCMP Exam.
Also provided is the CCMP Exam question sampler from the ACMP website.
Training Format
Virtual Instructor-Led Classroom: 4 days of web-based classes using GoToTraining.
Corporate Training and Consultancy
For organizations that want to their staff to obtain CCMP™ certification we can offer our CCMP Training course onsite in a four or three day format. If  CCMP™certification is not required then we can provide our ACMP Standard for Change Management and Practical Implementation Training course onsite in a three or two-day format.
To learn more, go to the ACMP Standard Training page.
Free Card Game to Train You in the ACMP Standard for Change Management
Great for those prepping for the CCMP exam!
To learn more go to CCMP MemoryPak™ page.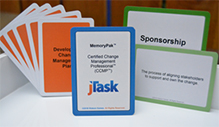 Who Should Attend
CCMP exam candidates *
Virtual Instructor-Led; 4 Classes
Yes
Knowledge Areas of the ACMP Standard covered:
Introduction and Change Management Process Overview
Change Impact and Organization Readiness
Change Management Strategy and Plan
Execution of Change Management Plan an Completion of Effort
Code of Ethics
Practical exercises and quizzes
Yes
Course Length
24 hours
ACMP QEP Course Code
Q000197
QEP Approved hours
21 hours
Pricing per attendee
$780 **
Minimum number of students
3
Instructor travel expenses
N/A
Corporate Private Courses Available on Request
Yes
Guaranteed to Run
All jTask CCMP training courses are guaranteed to run, provided a minimum of three students have registered for the course and paid.
100% Money-Back Pass Guarantee
We stand behind our product. For our public CCMP Training courses, if you do not pass the CCMP exam taken within 90 calendar days of successful completion of our course, we will allow you to retake our whole course at no charge.***
*** One guarantee per customer.
Refund
If you cannot attend your registered training course or a class, just let us know.  We can move you into any upcoming course or class within the next twelve months if it is not full. There are no additional costs or fees.
If you need a course refund, please request it by emailing jTask sales@jtask.com and we will process your request within ten days. The request needs to be received at least two weeks before the beginning of the course for which the refund is being requested.
Depending on your credit card policy, it may take some time for the amount to appear back on your credit card.