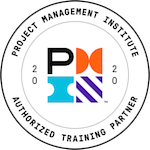 jTask CCMP Training is now an Authorized Training Partner (ATP) for the Project Management Institute (PMI). Now jTask CCMP Training is authorized to teach the PMI (Project Management Institute) curriculum.  "The ATP designation means endorsement from PMI, access to their turn-key content and instructor training for us all," said Lead Instructor, Roger Watson.
"We are looking forward to the added capabilities and services we can provide our customers with this new authorization from the widely respected Project Management Institute," said Mr. Watson. "We are grateful to have earned their confidence and hope to continue training many, many project managers in the future of change management."
jTask CCMP Training has been instructing change managers and project managers in the knowledge areas needed to pass the Certified Change Management Professional (CCMP) exam since 2015.
The ACMP global CCMP listing shows that nearly 10% of all CCMP certificate holders worldwide have come through jTask CCMP Training. jTask, Inc. is a QEP, Qualified Education Provider, for ACMP, the Association for Change Management Professionals. This means that jTask CCMP Training fulfills the 21-hour, instructor-led training requirement for the CCMP exam application. As a QEP our training course is pre-approved for CCMP applications.
For Additional Information
Please contact info@jtask.com
Legal
jTask, jTask CCMP Training, and jTask Change Management Foundation Training are trademarks of jTask, Inc. ACMP and the Association of Change Management Professionals, and CCMP are registered trademarks or trademarks of the Association of Change Management Professionals. PMI is a registered trademark of the Project Management Institute.